Slow Cooker Chicken Thighs and Cream in Mushroom Soup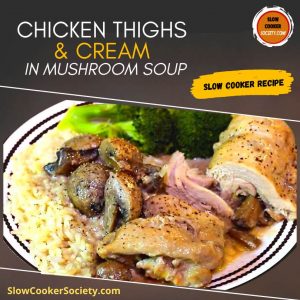 Author:
Slow Cooker Society
1 package of chicken thighs (boneless or bone-in)
family-sized can of cream of mushroom soup or 2 small cans
garlic powder
onion powder
1 pound of mushrooms. (Optional)
some carrots (optional)
Rinse the chicken thighs and place them in the crock pot (optionally take the skin off for a less greasy outcome)
Add the cream of mushroom soup on top.
Season with garlic powder and onion powder to your taste.
If you are a mushroom lover, you can add your preferred mushrooms on the top (cut them into small pieces)
Cover and cook on HIGH for about 4 hours.
Stir a little bit, adjust the seasoning if needed, and it's ready!
Serve with rice and veggies!
Recipe by
Slow Cooker Society
at https://slowcookersociety.com/slow-cooker-chicken-thighs-and-cream-in-mushroom-soup/