How to Make a Delicious Gnocchi Stew in the Slow Cooker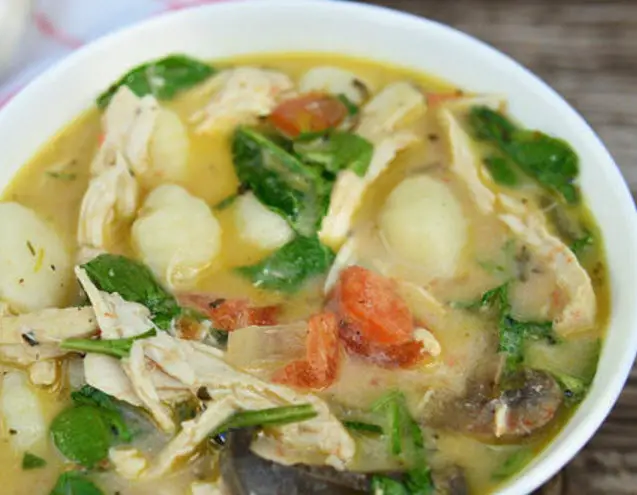 Author:
Slow Cooker Society
3 boneless skinless chicken breasts
1 small onion, diced
1 (12 ounce can) crushed tomatoes, drained
1 (8 ounce) package white mushrooms, sliced
3 garlic cloves, minced
4 cups low sodium chicken broth
1 teaspoon dried basil
1 teaspoon Italian seasoning
1 teaspoon Kosher salt
½ teaspoon black pepper
2 tablespoons flour
2 tablespoons butter, softened
1 cup coconut milk
1 (16 ounce) package potato gnocchi
2 cups baby spinach
Add the chicken, onion, tomatoes, mushrooms, garlic, broth and seasonings to the slow cooker. Cook on LOW for 5 to 6 hours or high for 3 to 4 hours.
Whisk together the flour and butter. When cooking is complete, remove chicken and shred.
Return chicken, along with the flour/butter mixture, coconut milk, and gnocchi.
Cook on HIGH for 15 minutes, then add spinach. Cook until spinach has wilted.
Recipe by
Slow Cooker Society
at https://slowcookersociety.com/make-delicious-gnocchi-stew-slow-cooker/