How To Make a Delicious Slow Cooker Glazed Ham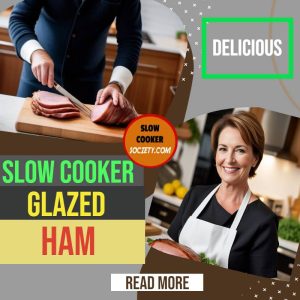 Author:
Slow Cooker Society
Start by trimming excess fat and skin from the ham.
Use a paring knife to slice a grid pattern into the ham.
Add ham and 1 cup of water to slow cooker.
Heat for 5-6 hours on low, until heated through.
Remove the ham from the slow cooker and let it rest for 20 minutes.
Prepare glaze.
Bring pure maple syrup, dark brown sugar, mustard, pepper and cornstarch to a boil.
Let boil 2-3 minutes, whisking constantly until the mixture thickens.
Let glaze cool for about 5 minutes.
Pat ham dry and spoon glaze over the ham.
Heat ham under broiler 5-7 minutes until the glaze has caramelized.
Recipe by
Slow Cooker Society
at https://slowcookersociety.com/make-delicious-slow-cooker-glazed-ham/